Limitless Communication,
without Side Effects.
ginlo, the messenger for private and confidential communication.
Your WhatsApp alternative.
Why do I need ginlo?
With ginlo, you reconquer your privacy and benefit from the opportunities of digital communication more than ever. 
A messaging app in which every letter, every number, and every pixel is encrypted - completely automated - with the strongest algorithms available.
Pure privacy. Easy to understand. Ad-free.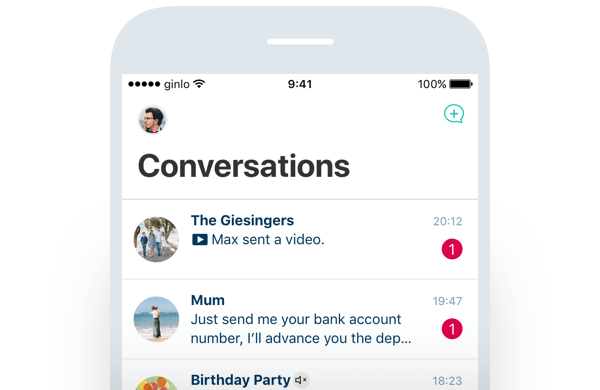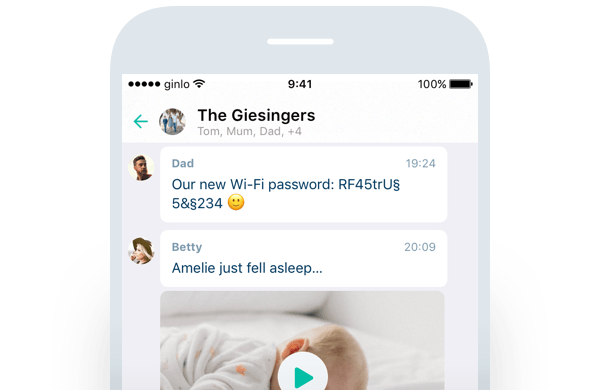 When can I test ginlo?
In a few weeks, ginlo will be available in the app stores for iOS and Android. Then, you can use it to communicate securely with your friends & family.
You want to be in from the very beginning? Just send us an e-mail with the subject "early bird" and we'll give you the starting signal.
Looking for a WhatsApp alternative? 
Do you sometimes feel uncomfortable when using WhatsApp? Rightly so, because you're tracked and profiled, and this data is shared with WhatsApp's parent company Facebook. And have you already read the news about ads in WhatsApp as of early 2019? They will show personalized ads based on your chats, your online behavior, your personal preferences, etc.?
More details about WhatsApp and why ginlo comes just in time.
The benefits at a glance
Easy
ginlo unites the most commonly used applications (e.g. messaging, contacts, appointments) in a single app.

Clean, completely encrypted, and safe.

And since we want ginlo to serve and benefit its users – just like every good technology does – we especially care about ease of use for everyone. Technical know-how isn't necessary at all. 
Private
When using free apps and Internet services, you expose everything about your life, your habits, and all your private contacts. You give up your privacy. That is because these ad-based services collect, analyze, and sell your profile and usage data. 
ginlo is different. We rely on a transparent business model – services for money – and can thus ensure your privacy.
Secure
ginlo encrypts not only end-to-end, but also all data stored in the app using the strongest known algorithms: strong elliptic curve cryptography and the tried-and-tested AES 256 algorithm.

News Worth Reading
Hardly a week goes by without new privacy violations being revealed. Here, you'll find the latest news on topics such as privacy, data misuse, and surveillance that we believe are worth taking the time to read. #encryptionhelps

620 million accounts stolen from popular websites
12 Feb 2019 - A new report revealed that cyber criminals have placed 620 million online account details from 16  hacked websites up for sale on the dark web. The list includes popular websites such as MyFitnessPal, My Heritage, Dubsmash, Sharethis, and Animoto. Are you affected?
Read at forbes.com

Popular apps secretly record your screen
07 Feb 2019 - ♫ Every tap you make. Every step you take, ... I'll be watching you. ♫ iPhone apps like Hotels.com, Expedia, and Hollister record your smartphone screen without asking for permission.
Read at techcrunch.com

WhatsApp will soon show ads
01 Nov 2018 - It's time for Zuckerberg & Co. to monetize WhatsApp - their free messenger service and one of the most widely used ones. How exactly? Soon, Facebook wants to show ads which will pop up in your WhatsApp status.
Read at engadget.com