What is ginlo @work?
A secure business messenger giving companies full data sovereignity 
GDPR-compliant business messenger with all features users know from WhatsApp and others
Secure use on both private and business devices
Easy roll out and maintenance thanks to central administration tool
Full encryption and ISO-certified hosting in Germany for maximum security
Business Messenger
Collaborate in teams and on projects on multiple devices
Speed up your processes and reduce e-mail traffic. Use groups to structure communication and cooperate efficiently. With all messaging features you're already familiar with: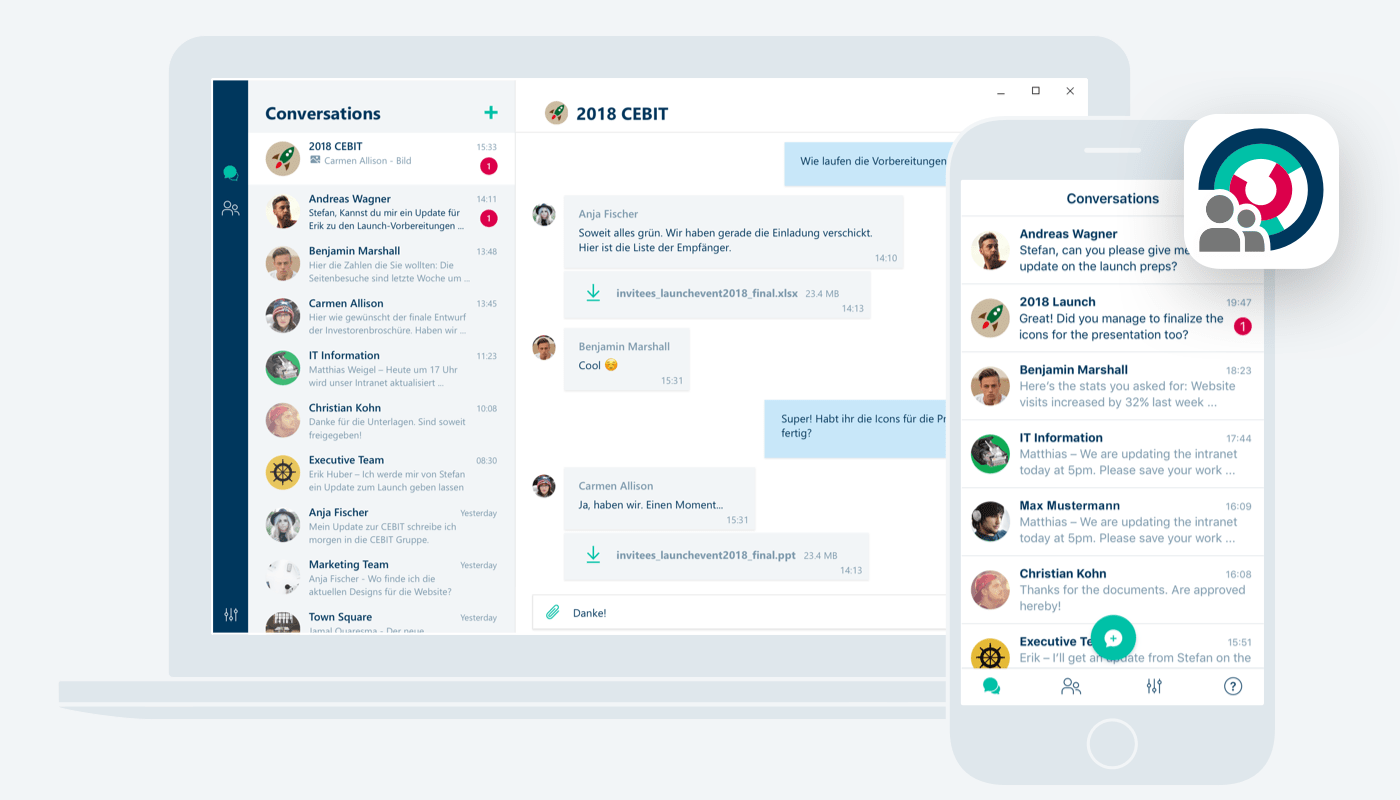 Sending encrypted text and voice messages, files, images, and videos
Secure use on both private and business devices
Group chats for projects and teams
Intuitive user interface users already know from WhatsApp and others
Secure backup for each user even if a device is lost
Use on multiple devices at the same time
Available for Android and iOS
Administration Tool
Stay in control of your data with ginlo Team Manager
ginlo Team Manager is the IT department's command center. For security reasons, it's not a web portal, but a lean and intuitive desktop application. 
Quick and easy onboarding of users

Invitation of external users as guests

Centralized compliance archive and secure backup of all correspondence
Export and decryption of data — no one but you has access
Tamper-proof audit log for all sensitive administrative tasks
Easy user support, e.g. in case a key or device is lost
Available for Windows and macOS
You want to communicate securely and in compliance with GDPR?
Uncompromising security through highest encryption standards 
All data in ginlo @work is fully encrypted – that's more than end-to-end. You – and only you – have the sovereignty over all keys and thus over all data.
End-to-end encryption of all message content.
Local data encryption on the device.
Encryption of databases including metadata.
User-generated passcode to protect access to the app.
Hierarchical encryption for full data sovereignty.
Hosting exclusively in ISO-certified data centers in Germany.
Legally safe and compliant with German data protection  
As a German provider, we are subject to data protection laws that are among the toughest in the world. At the same time, the use of ginlo @work is compliant with the new European General Data Protection Regulation (GDPR). Data is processed and stored exclusively in Germany and thus in the EU. 
Zero-knowledge approach to minimize data collection on our part.
Audit-proof archive of all correspondence.
Data processing with state-of-the-art security technology.
Hosting exclusively in certified data centers in Germany.

ginlo @work compared to other business messenger
| | | | | | |
| --- | --- | --- | --- | --- | --- |
| Features | ginlo @work | Standard e-mail | WhatsApp | Slack | Microsoft Teams |
| Secure* transfer of messages, files, images, and videos | | | | | |
| Encryption of local files on the device | | | | | |
| Centralized, encrypted compliance archive | | | | | |
| User management | | | | | |
| Usage compliant with GDPR | | | | | |
| Made & hosted in Europe | | | | | |
| Hierarchical encryption for full data sovereignty | | | | | |
*Status 8. June 2018
Try it today
No credit card required. No commitment. No automatic renewal.
Any questions?
Our Customer Care is always there to help you.
More productivity with more safety