Productive Messaging for Employees and Full Security for Your Company
Use ginlo @work to collaborate efficiently in teams and on projects.
For users, we offer a team messenger with all features they're already familiar with. 
Administrators can easily role out and manage the solution. 
Full encryption and hosting in Germany ensure highest levels of security.
More productivity with more safety
Business Messaging - Efficient team work, more success 
Speed up your processes and reduce e-mail traffic. Use groups to structure communication and cooperate efficiently. With all messaging features you're already familiar with:
Communicate in one-to-one and group chats.
Send text and voice messages.
Share pictures and videos.
Transfer all types of files.
Add emojis for a personal touch.
Start up quickly with an intuitive user interface based on established standards.
Recover any data from a backup that's always up-to-date.
Use multiple devices thanks to full synchronization.
Mobile for iOS and Android
For desktop coming soon!
Stay in control with ginlo Team Manager
ginlo Team Manager is the IT department's command center. For security reasons, it's not a web portal, but a lean and intuitive desktop application. 
Onboard users quickly and easily.

New:

Enhanced role concept now allows for inviting external users as guests.

Rely on a centralized compliance archive and secure backup of all correspondence.
Export and decrypt exactly the data you need. No one but you has access, not even us as the provider.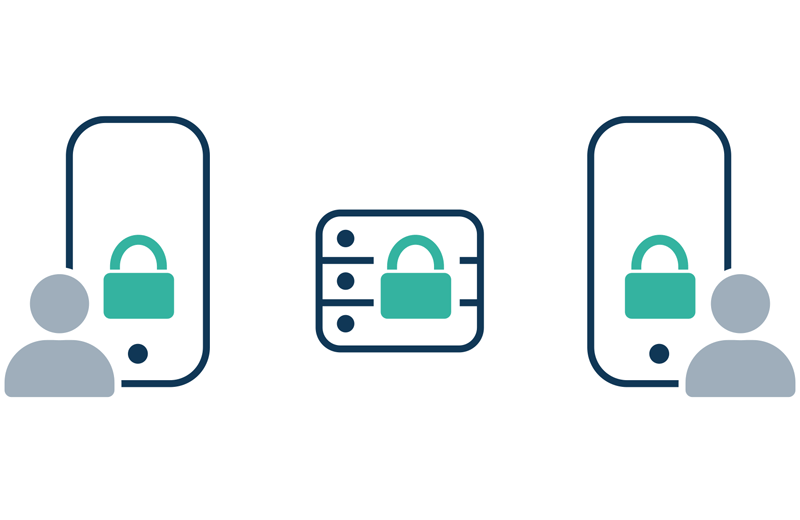 Uncompromising security through highest encryption standards 
All data in ginlo @work is fully encrypted – that's more than end-to-end. You – and only you – have the sovereignty over all keys and thus over all data.
 End-to-end encryption of all message content.
Local data encryption on the device.
Encryption of databases including metadata.
User-generated passcode to protect access to the app.
Hierarchical encryption for full data sovereignty.
Hosting exclusively in ISO-certified data centers in Germany.
Legally safe and compliant with German data protection  
As a German provider, we are subject to data protection laws that are among the toughest in the world. At the same time, the use of ginlo @work is compliant with the new European General Data Protection Regulation (GDPR). Data is processed and stored exclusively in Germany and thus in the EU. 
 Zero-knowledge approach to minimize data collection on our part.
Audit-proof archive of all correspondence.
Data processing with state-of-the-art security technology.
Hosting exclusively in certified data centers in Germany.

ginlo @work compared to other business messenger
| | | | | | |
| --- | --- | --- | --- | --- | --- |
| Features | ginlo @work | Standard e-mail | WhatsApp | Slack | Microsoft Teams |
| Secure* transfer of messages, files, images, and videos |   |   |   |   |   |
| Encryption of local files on the device |   |   |   |   |   |
| Centralized, encrypted compliance archive |   |   |   |   |   |
| User management |   |   |   |   |   |
| Usage compliant with GDPR |   |   |   |   |   |
| Made & hosted in Europe |   |   |   |   |   |
| Hierarchical encryption for full data sovereignty |   |   |   |   |   |
*Status 8. June 2018
Try it today
No credit card required. No commitment. No automatic renewal.
Get in touch
You have a question or need help starting your free 30-day trial? Then do get in touch with us, we'll be happy to help.
More productivity with more safety